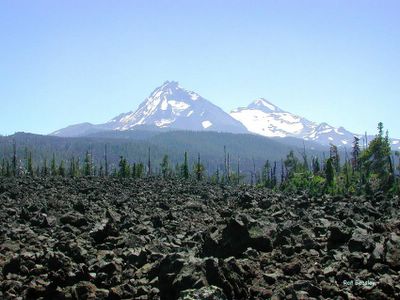 North and Middle Sister with 1,500 year old lava flow

We have heard a great deal the last few days about 13 volcanoes the United States Geological Survey thinks require additional monitoring.
Gaps in volcano monitoring
The U.S. Geological Survey said Friday that monitoring gaps exist for volcanoes in Alaska, California, Washington, Oregon, Hawaii, Wyoming and the Northern Mariana Islands that could pose a hazard both on the ground and to aviation.
[........]
The 13 very high threat volcanoes with inadequate monitoring. These include nine volcanoes in the Cascade Range -- Rainier, Hood, Shasta, South Sister, Lassen, Crater Lake, Baker, Glacier Peak and Newberry. Also, four Alaskan volcanoes, Redoubt, Makushin, Akutan and Augustine. The agency noted that while Cascade volcanoes do not erupt frequently, they threaten major populations and developments.
One of the volcanoes mentioned is the South Sister located in the Cascade Range near the center of Oregon. The South Sister is located in an area that actually contains several volcanoes including the North, Middle and South Sister, Mt. Bachelor and Broken Top. This area could be a potential
"Super Volcano"
that could impact the entire US and much of the world.
Three Sisters Bulge

Wicks uses data collected by the European Remote Sensing Satellite and employs a method called InSAR, or Interferometric Synthetic Aperture Radar. Interferometry is a technique of combining the input of two antennas (or telescopes) to effectively create one larger, higher resolution receiver that can measure the landscape to a precision less than the width of a ring finger.

More recently, in May of this year, Wicks saw an alarming batch of data while studying a region of Oregon called Three Sisters. A trio of ancient volcanic peaks dominates the landscape.

Wicks spotted a bulls-eye pattern in his topography data that showed the ground had risen as much as 4 inches (10 centimeters) over an area more than 9 miles (20 kilometers) in diameter sometime between August 1996 and October 2000.

He said the uplift, forced from below by rising magma, surprised him because the last eruption in the area was 1,500 years ago and there has been no earthquake activity that might hint at moving magma.

Wicks told SPACE.com there are two possible outcomes for the Three Sisters uplift: It will die out as other uplift phenomena have been known to do; or it will continue, eventually generate earthquakes, and then lava well erupt through to the surface.
Four inches may not seem like much until you realize it's raising mountains.